Full-Time Job: (Manny Family Assistant)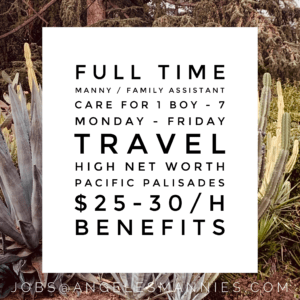 We are looking for a full-time Manny assistant. Please read the requirements below. If you feel you are the perfect match, please contact us to schedule an interview.
Full Time/ Manny Family Assistant needed for family in the Palisades. You will be mainly focused on their youngest son (7) to be a fun person to bond with, help with homework, watch a movie, toss a ball around.
The schedule will most likely be 11:00 am-7:00 pm Monday – Friday with flexibility on both sides to accommodate.
This position would be great for someone that is looking for long term with an amazing family.
The pay is $25-30/h with benefits to be discussed with the successful candidate.
Caregiver must be aged 21+
Caregiver must be Fluent in English
Caregiver must be able to drive
Caregiver must be legally authorized to work in the United States
Caregiver must have outstanding references
Caregiver must hold TrustLine Registration*
Caregiver must have a clean criminal record and motor vehicle record
Caregiver must hold a current CPR, First Aid/AED Certificate*
Caregivers MUST have professional child care experience in a role similar to this.
*or complete upon hire
The caregiver must be willing to format the resume to the template provided.
Please apply with your formatted resume, any letters of recommendation, references, and certifications. All applicable nannies will be contacted. Thank you for your time and hope to hear from you soon!
Register here or if already registered, email jobs@angelesmannies.com
Do you have a passion and want to become a certified Nanny? Try out these certifications to become a certified Manny and start working with us.